What Happened To KCS?
November 14, 2022
Hello everyone, this is Richard, a.k.a theSignalyst and in this article we are going to discuss what happened yesterday in the crypto market in general, and then dive into KCS.
First, let's start with a quick market overview.
Crypto Market Overview
Due to FTX crash, the last 2 weeks were bad for the crypto market driving BTC below 18k zone and many altcoins suffered!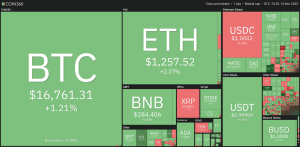 Cryptocurrency Market Heatmap | Source: Coin360
Fear and Greed Index Signals "Extreme Fear", Bulls Looming to Buy


Fear & Greed Index | Source: Alternative
Extreme Fear to me is a signal to "look" for buy setups. As the old famous saying: "the time to buy is when there's blood in the streets." ~ Nathan Rothschild
But of course, it wouldn't be wise to jump in blindly in a bearish market. Instead, we will be waiting for the bulls to take over.
Yesterday, Crypto.com exchange accidentally sent 320k ETH to Gate.io exchange, this transfer is considered suspicious  especially during these times. Thus panic mode started among traders and losing trust in centralized exchanges, especially after what happened to FTX last week.
That's exactly why native exchanges tokens drooped hard. One of these tokens was KCS. Kucoin's native token.
However, the news wasn't directed to Kucoin exchange specifically. The irony is that there were many FUDs about Kucoin for the past couple of weeks/months, then FTX collapsed. Then the FUDs regarding Kucoin resumed, and here we are again waking up to the news regarding Crypto.com and Gate.io
Kucoin is still clear from all allegation and Johnny, Kucoin's CEO, is handling the situation nicely by providing proofs and answers backed by evidence.
Now let's get into KCS technical analysis:
Kucoin (KCS/USDT) Analysis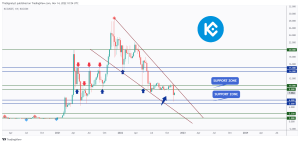 KCS/USDT Chart on the Weekly Timeframe | Source: KuCoin
KCS is trading inside that big wedge pattern in brown, and last week KCS rejected the upper trendline and 10.0 resistance zone.
And as KCS approached the 5.0 – 6.0 support zone, the whales bulls kicked in aggressively pulling KCS back up again, forming a demand zone now around 6.0 – 7.0
We are currently trading inside a new floor where the 5.0 zone is our support and 10.0 zone being our resistance.
For the bulls to take over from a long-term perspective, we need a break back above the 11.0 last major high.
If we break below the 5.0 support, which would be BTC breaking below 15k, then we will be expecting a movement till our next support.
Meanwhile, as KCS approaches the 6.0 support again, we will be looking for buy setups on lower timeframes.
Hope you find this article useful.
"All Strategies Are Good; If Managed Properly!"
~Richard Nasr